Three Water Store Locations

3603 Page Ave., Jackson MI
2110 Bondsteel Dr., Jackson, MI
2419 N. Cedar Rd., Holt, MI

All of our store locations include a filling station, 24-hour water vending, bottled water, coffee supplies, and accessories.
Click on the Google maps below for directions to our three locations.


The Water Store
Family owned & operated since 1954
Toll Free: (800) 628-6576
Phone: (517) 764-7210
Hours of Operation
Weekdays: 8 am - 6 pm
Saturdays: 8 am - 4 pm
24-Hour Vending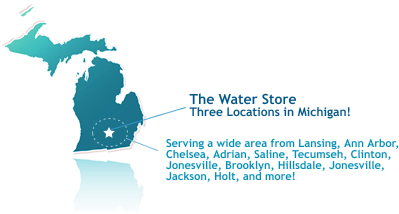 Experience the Purity of Our Water
Enjoy Better Tasting Brewed Beverages in Your Home or Office Today!